Overview:
If you like to visit Iran culturally, Lalehgoon Gasht Iran Tour Operator suggests you 14-day- tour. It is adequate time for visit Capital of Iran, Tehran; and enjoy Kerman's attractions and test of its pistachios; then you are transferred to muddy walls and wind towers city, Yazd; after that Darius invites you to visit his capital, shiraz; afterward you are taken to half of the world, Isfahan. For getting more information, please read itinerary. Thanks!
Note of Tour
| | |
| --- | --- |
| (Group Size) Min: | 2 Person |
| (Group Size) Max: | 10 Person |
| Arrival: | Tehran |
| Departure: | Tehran |
| Duration: | 14 Days |
Tehran
Golestan palace
Carpet museum
National museum
Jewels museum
Bazzar
Mirror Hall
Kerman
Ganj Ali khan complex
Ganj Ali khan Bathhouse
Ganj Ali khan Museum
Moshtagh Alishah tomb
Shazdeh garden
Rayn castle
Nematolah Vali's tomb
Yazd
Zoroastrian temple
Tower of Silence
Dowlat Abad Garden
Zurkhaneh & Carpet workshop
Amir Chakhmaq Square
Grand Mosque & Fahadan region
Shiraz
Pasargadae
Naqsh e- Rostam & Rajab
persepolise coplex
Nasir-ol-Molk mosque
Narenjestan e ghavam garden
Vakil & Karim Khan complex
Hafez tomb
Isfahan
Naghsh- e-Jahan square
Abbasi Jameh mosque
Sheikh Lotfollah mosque
Ali Ghapoo Palace & Qeysarieh
Chehelsotoun Palace
Vank Cathedral & Music Museum
Khajoo & Si-o-se Pol Bridge
Kashan
Fin garden
Broujerdi house
Qom
Masoome Holy shrine
Day 1: Tehran
When you are arrived to Tehran International Airport, you are received and transferred to hotel by Lalehgoon gasht's Tour guide. After resting, your tour guide takes you to Golestan Palace, the royal palace dating back to Ghajar Dynasty. After lunch, you Visit Iran National Museum and its precious pieces. Afterwards, spend your time with busiest Bazaar in Iran and drink some Iranian tea in a peaceful traditional tea house. Now it is time to unearth the pricy collection of Jewels of Iranian in the Iran Jewels Museum. Overnight you stay in Tehran.
Day 2: to the Kerman
Early in the morning, you leave hotel to Mehrabad Airport to flight to Kerman. After checking in, you leave hotel to visit dignity of Shazdeh Garden located at the heart of the desert and shines like green gem. After enjoying the fresh atmosphere of the garden and sipping your tea with Kolompeh, a famous sweet in Kerman, you leave garden to Rayen Castel. It is suited at the skirt of the Mountain Hezar and built mudbrick. After making nice photos at the top of the citadel, you leave Rayen to Kerman but on the way your bus is stopped next to the Shah Nematolah Vali's shrine. He was a mystic and poet who predicted future! Overnight you stay in Kerman.
Day 3: Kerman
After eating breakfast, your tour guide takes you to the Ganj Ali Khan Complex. This complex includes Mosque, Public Bath, Coin Mint Workshop, Religious school, and Bazaar. All these monuments are around a square named Ganj Ali Khan too. After eating lunch, it is adequate time to walk in colorful bazaar and talk to friendly shop keepers and try pistachio and buy high quality Pistachio too. Overnight you stay in Kerman.
Day 4: to Yazd
You leave Kerman to Yazd. On the way, there is a wonderful round Caravanserai. All caravanserais are rectangular in whole Iran. But Zein-o-din is one and only circular Caravanserai located in this land. After sipping your Iranian tea or coffee, you hit the road to Yazd. Overnight you stay in Yazd.
Day 5: Yazd
In this day you get familiar with Zoroastrian culture, your tour sets out by visiting Silence Tower. In the past Zoroastrian people leave corpse at the top of this tower. After that you leave the tower to Fire Temple. After lunch, you go Dowlat Abad Garden to visit the tallest Wind Tower (Badgir). In the evening, it is an adequate time to visit Zoorkhaneh and watch athletes exercise. Zoorkhaneh is a Persian sport club. Overnight you stay in Yazd.
Day 6: Yazd
In the morning, you visit Amir Chakhmagh Square that is one of the most significant historical and tourist complexes in Yazd.  Before lunch, you take a look at the Carpet Workshop and Water Museum. In the afternoon you visit Grand Mosque and the stunning geometric decorations on the wall of the mosque. At last you spend in Fahadan Region and enjoy walking in narrow muddy wall alleys. Overnight you stay in Yazd.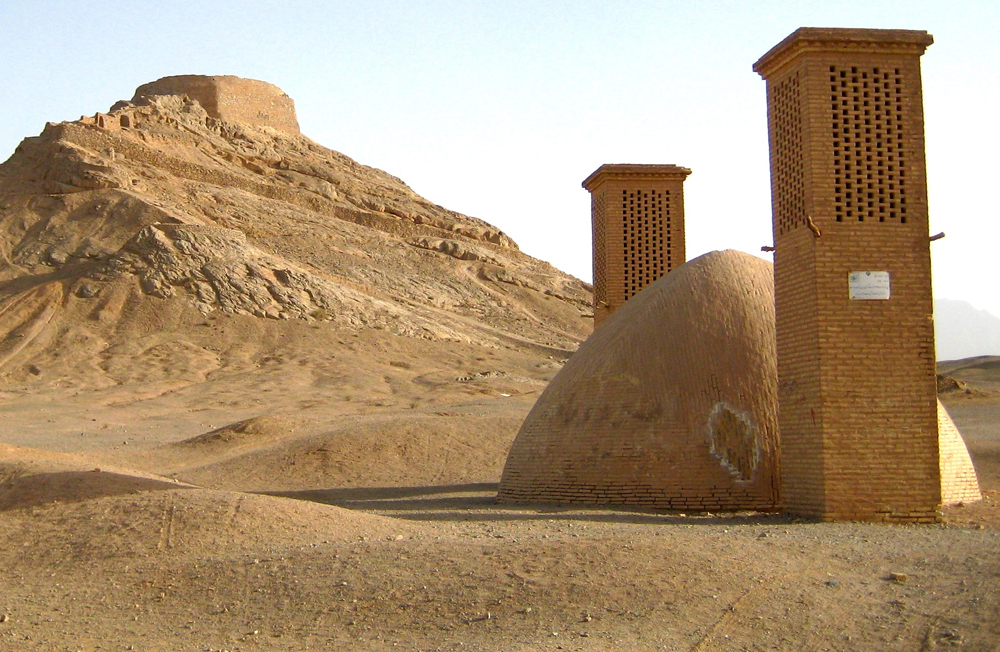 Day 7: To the Shiraz
Early morning you abandon Yazd to Shiraz. On the way you have chance to visit Pasargadae, the place that you can see the tomb of founder of the Achaemenid dynasty, the Cyrus the great. Then you leave Pasargadae for visiting Naghsh-e-Rostam. After arrival, you are facing a bulky mountain engraved during various era. These Engravings give you good information about Iranian history. Next you go to the Persepolis Complex, it is one of the biggest capitals of Persia built by the order of Darius the Great. There are many remains of various palaces and mausoleums constructed by huge one-piece stones and you can see the glory of the Iranians on the carved walls. Overnight you stay in Shiraz.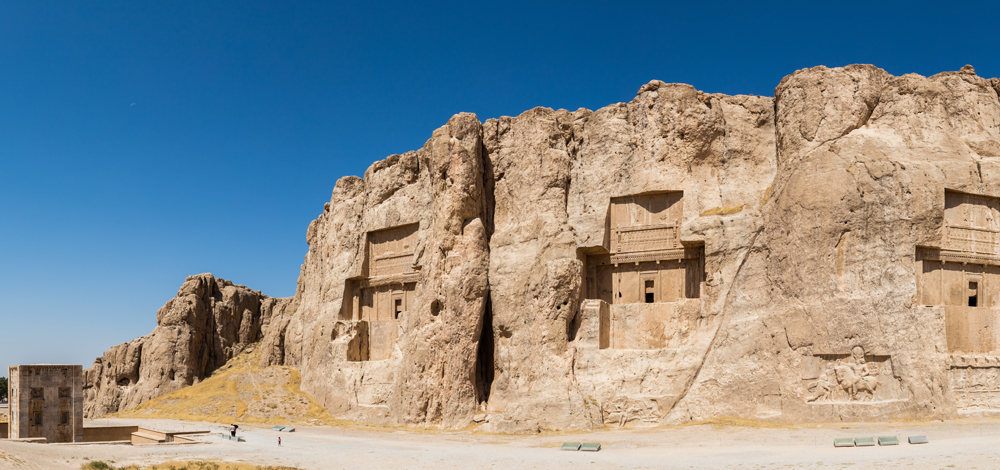 Day 8: Shiraz
For making nice picture in pink Mosque, Nasir-ol-Molk Mosque, you should leave hotel as soon as possible. After arrival you step in a rectangular hall. There are some windows decorated with small stained glass. When the sun's ray pass through them make wonderful scene for photograph. Then you go to visit Narejestan or Ghavam Garden. This wonderful garden dates back to Ghajar era. After lunch, you go to Hafezeieh and sit in a flourish garden and listen to your tour guide who read some poems by Hafez. Then you reach yourself to his tomb. At the top of his tomb, there is a dome decorated by teeny-tiny tile. In the evening you visit Darvazeh Ghuran. Overnight you stay in Shiraz.
Day 9: to Shiraz
After breakfast you meet your tour guide at the hotel. He takes you to the Vakil Complex to visit Vakil Mosque and Public Bath. Then you visit Karim Khan Citadel, it was Karim Khan court. After marveling in small yard of the citadel, your tour guide takes you to a shop next to the Citadel and you try Falude. After that you walk to Vakil Bazaar to eat lunch and buy souvenir. Overnight you stay in Shiraz.
Day 10: to Shiraz
In the morning you leave Shiraz to Isfahan. It takes 5 hours to reach Isfahan. After checking in the hotel and resting, your tour guide takes you beside Zayandehrood River and you visit royal Khajoo and longest bridge on the river, Si-o-Se Pol Bridge. Overnight stay in Isfahan.
Day 11: Isfahan
In the morning you go to the Naghsh-e-Jahan Square, to visit Jameh Abbasi Mosque, Sheikh Lotfollah Mosque, Ali Ghapoo Palace and Gheysarieh Bazaar. Jameh Abbasi Mosque is larger than Sheikh Lotfollah Mosque. Ali Ghapoo Palace is the first skyscraper in Isfahan. After lunch you visit Chehelsotun palace. This palace was built by the order of Shah Abbas the Great and completed by Shah Abbas The second. This palace was built to host foreigners during Safavid dynasty. In the evening you back to square to visit Gheysarieh Bazaar and visit some workshops of artists who paint miniature or make Calligraphy Textile. Overnight you stay in Isfahan.
Day 12: Isfahan
After eating breakfast in the hotel, you sit in the bus to visit delightful and magnificent Atigh Mosque considered as museum of one-thousand-year of Persian Islamic architecture and calligraphy, it is truly one of the world's greatest mosques in the whole world. It is time to go to Julfa zone to walk in cobbled street and take look at Armenian Vank Cathedral. After eating lunch, you have free time to spend in Half of the World, Isfahan. Overnight you stay in Isfahan.
Day 13: Isfahan to Kashan
You leave Isfahan to reach Kashan but on the way you visit one of the most famous villages in Iran, Abyaneh. When you arrived to this Village you see many houses in pink. Because they are made of the pink dust. After walking in Abyaneh and making photos with rural colorful dress, you leave the village to Kashan. After lunch you visit Fin Garden. The interesting point about this garden is that there are two small private bathrooms next to the garden. After enjoying the green garden of UNESCO Heritage, you go to the Tabatabaei and Brojerdi House. Afterwards, you step to a Sultan Ahmad Public Bath and take look at different sections of Iranian Bath. There is a stair case in front of the box office that reaches ceiling. From above, you can see a beautiful view of Kashan city. Overnight you stay in Kashan.
Day 14: Kashan to Tehran
After breakfast you leave hotel to Tehran airport. On the way you stop in Ghom to visit Massomeh Holy Shrine and enjoy from reflex of lights on the mirrors. The special souvenir of this city is Sohan. It is a sweet made of honey, wheat germ, nuts. Then you continue the way to reach Imam Khomeini International airport. You catch your flight to back home.
Accommodation in 3* hotelsThis Item is Include

Meals: all breakfasts, all dinnersThis Item is Include

All transfers to hotelsand landmarks mentioned in the itinerary

All transports to cities mentionedin the itinerary
All entrances accordingto the itinerary

Refreshments and water for 7 daysThis Item is Include

Experienced tour guideof different languages

Visa supportThis Item is Include
International airfareThis Item is Exclude

lunchesThis Item is Exclude

Personal insuranceThis Item is Exclude

Visa stamp feeThis Item is Exclude